This Christmas is one of the best I've had in recent years, I must say (minus the lack of snow of course, because that's just upsetting). Not just because of the gifts or anything like that, but the atmosphere. My brother's girlfriend just recently moved to an apartment in Connecticut because she got hired at ESPN. (Pretty fucking exciting guys, amirite? So proud of her.) Since she's so far away from her family (they originally lived in Pennsylvania, but a couple years ago they moved to North Carolina) and since she got lucky and got Christmas Eve and Christmas off, she ended up spending the holiday with us. :) The last time we had anyone other than the 4 of us and my neighbor here for Christmas was when we had a HUGE Christmas shindig with all of my dad's side of the family from the Bahamas AND my grandmother and her husband from my mom's side of the family. These photos don't even exist on our computer, so I'm gonna spitball it and say that happened in 2000 or 2001 (more likely 2000, because I'm pretty sure my maternal grandmother died in 2001). So yeah, 11 years... It's been a long ass time. Anyways, things got switched up a bit because of this. Unlike what we've been doing for the past few years, we had Christmas dinner the day before Christmas instead of the day after. And Christmas morning, we ate breakfast first. Normally my brother and I open our gifts, we have breakfast, and then my parents open theirs. But everything else was standard fare: we pigged out on tons of snacks and opened gifts in the afternoon with our neighbor, and at night we opened our stocking stuffers.

Now the part that I know at least one person reads every year...the list of awesome shit I got! :D LETS-A-GO!:

Video Games:

- The Legend of Zelda: Skyward Sword
- Kirby's Return to Dreamland
- A NINTENDO MOTHERFUCKING 3DS BITCHES!!! Been waiting so long to get one of these in my hands.
mizunosakura kept trying to sway me into getting one at the Pokémon Rumble Blast event back in October at Nintendo World, but I was stubborn and survived and it was ALLLLL WORTH IT.
- Tetris Axis
- Mario Kart 7

DVDs:

- The Big Bang Theory (Season 4)
- Modern Family (Season 1)
- Jingle All the Way

Books: (I haven't done this category in a long time! I stopped asking for books in 2007, but I decided to do it again this year.)

- Pokémon Adventures (Volumes 13 & 14)
- Pokémon Black and White (Volumes 1 & 2)

Other:

- 2 camisoles
- a journal (it hasn't arrived yet, so my mom wrote a note about it instead XP)
- an iPod dock with speakers
- a Super Mario 2012 calendar
- a bag of Munchos

From my brother's girlfriend:

- a Bazinga t-shirt (from the Big Bang Theory, but different from the one my parents got me for Easter, which had Sheldon's face on it)
- an ESPN tumbler cup (with an AWESOME red swirly straw! When I poured milk into it, it looked like peppermint candy! :D Also, it's not in their catalogue yet, so only people who work there can buy it.)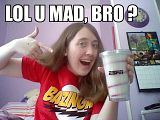 From my neighbor:

- a bag of Munchos
- a candycane (in a felt snowman candycane holder :3)
- a scarf
- $50

Stocking Stuffers:

- a pen
- 2 Charms lollipops
- 2 Ring Pops
- a pack of Fun Dip
- a pack of Butterscotch Krimpets
- a pack of Animal Crackers
- 2 holiday scratch-offs
- a 4GB cow USB drive
- a cow keyring with LED light (and it moos! :D)
- a keyring with my name on it
- a Ty Beanie Baby keyring of Twitch the guinea pig

See ya! ;)

~Melissa~